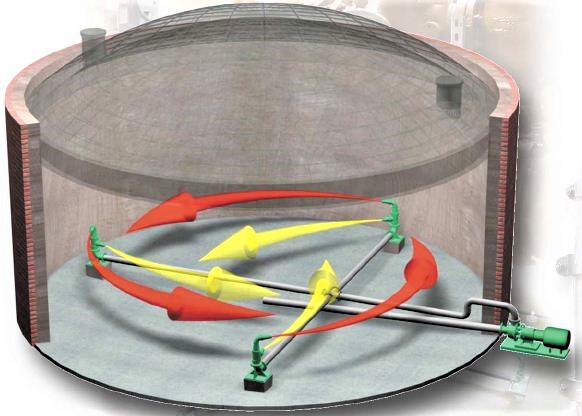 Maximising the benefits of renewable energy continues to be the focus for all of the UK's water supply companies in addition to many private sector companies who have invested in the anaerobic digestion (AD) process. Mixing is an essential part of the AD process and SYSTEM MIX Ltd who market the highly effective Rotamix Dual Zone Mixing System, are delighted to be making a significant contribution to the operational success of many of the UK's on-site AD process systems.
A great example is there is now DUAL ZONE MIXING installed in all of Anglian Water's STC (Sludge Treatment Centres) which includes both their traditional digesters and also their THP (Thermal Hydrolysis Plant) systems. This is a total of 8 major treatment centres which now handle all of the sludge from around the 'normal' Anglian Water waste treatment works and equates to between 8 and 9 tanks per site, all with multiple pumps.
Another System Mix success story is that they can lay claim to mixing all of Southern Water's anaerobic digesters spanning from Dover across to Southampton.
Why the Mixing Process is Important?
As an established supplier of digester mixing systems to many of the UK's water companies in addition to many other private sector AD plants, System Mix are able to demonstrate that the basis of the success of these plants depends on a durable mixing technology supported by reliable Vaughan Chopper Pumps. Andy Parr, Director of System Mix explains the reasons for the success of System Mix and explains the mixing process in more detail.
"It is crucial to the AD process that suitable pre-conditioning of solids is carried-out prior to digestion and our system has been proven to be one of the most effective in achieving this.
The Vaughan pump prevents re-accumulation of fibrous and fatty material in the digester and this means that material continues to pass through the nozzles.
This in turn ensures that digestate is adequately conditioned and actually benefits all post-digestion equipment".
He concluded, "As many AD operators now need to maximise the sustainable credentials of their plant and equipment even further, we are confident that the benefits of our mixing systems are becoming even more important as proven by our successes with Anglian and Southern Water".
For further information on how SYSTEM MIX can help to maximise the potential of your AD
Plant operations contact: Andy Parr, System Mix Ltd, Sawtry, Huntingdon, UK.
Tel: +44 (0) 1487 830123
Email: andy@pumpmix.co.uk
Website: www.pumpmix.co.uk