PROBLEM: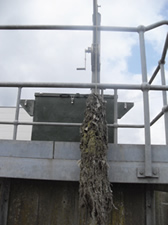 Many sewage sludge mixing applications utilise submersible, guide-rail type mounted mixers on the basis that they are easy-to-install and remove, thanks to the guide rail system. However, these systems are vulnerable to failure usually due to rag-accumulation on their rotating parts which results in expensive repair or replacement. In many cases the build-up of rag becomes so severe that the lifting davits exceed safe working limits and this can lead to possible safety implications. Furthermore, process throughput and the associated equipment reliability, can also be affected.
SOLUTION:
System Mix Ltd, a division of P&M Pumps, the UK distributor of Vaughan Chopper Pumps and Rotamix Tank Mixing Systems, has established a reputation for developing innovative retrofit in-tank mixing systems. Their versatile approach to sludge mixing has resulted in a number of successful installations across the UK. These include Peacehaven (Southern Water), Howden (Northumbrian Water), Jaywick & Clacton (Anglian Water) and Mogden (Thames Water).
A recent requirement has been to develop a 'Mini Drop' retrofit mixing system that can be installed into a tank without having to empty and clean it and also to utilise existing guide rails and lifting equipment, previously used for unsuitable submersible mixers which failed due to rag accumulation. This type of system provides effective mixing for tanks where a suitable suction connection is available for re-circulation through the guide rail mounted vertical nozzle manifold header.
THE BENEFITS: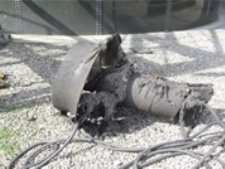 It is not uncommon for users of submersible mixers where fibrous material causes frequent and expensive breakdowns to have to tolerate the situation because of the cost-implications associated with emptying and cleaning sludge tanks. However, the Mini-Drop system significantly reduces these costs by eliminating the need to empty and clean the tank as it utilises existing guide rail and lifting davit arrangements and in some situations the existing tank openings can also be utilised. The associated Vaughan Chopper Pump required for the system is competitively priced when compared against the frequent submersible mixer repairs and can also be supplied on a hire basis if required.
A SUMMARY OF THE MINI-DROP SYSTEM:
The System Mix Mini-Drop system is in operation at several sites and is proving to be a reliable and cost-effective alternative to submersible mixers where capital projects are unlikely to be allocated. The main features and benefits are; utilisation of the powerful and effective external Vaughan Chopper Pump, tank entry not required to install or remove the system, orientation of the nozzle can be adjusted as required, the pump conditions as it mixes, all submersible parts in 316 stainless steel, quick installation, even into full tanks, full design service available if required.
Further information on the Mini-Drop System is available from:
Andy Parr, System Mix Ltd, Sawtry, Huntingdon, UK.
Tel: +44 (0) 1487 830123
Fax: 01487 832888
Email: sales@thesolidsolution.co.uk
Website: www.pumpmix.co.uk